If you are searching for Holistic Massage in Bristol you have come to the right place!
I specialise in massage to ease physical pain or emotional or stress-related issues. I am here to give you a supportive and held space in which we can work together. My sensitive approach combines a wealth of experience with a wide range of techniques; all to cater to your specific needs.
I am a qualified and fully insured Holistic Massage Therapist offering:
DEEP TISSUE . HOLISTIC . REIKI . THAI FOOT . CUPPING
Lovely treat for someone special!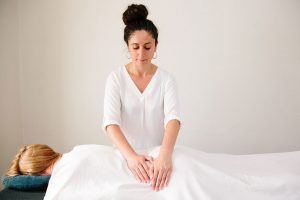 Sometimes we view massage as a luxury treatment or for use in an emergency when our stress levels and physical strains become too much. I personally feel that we can include massage in our daily lives to help us feel at our best and maintain good health.
Regular massage can give us the perfect space for deep relaxation and to heal on many levels which can be as nourishing to us as a good diet, positive thinking and exercise.
The following pages aim to answer the questions you may have and say a little bit about me. If there is something else you feel you would like to ask or to make a booking, please call me on 07525 758 969 or contact me now via this website.
What I practise involves mutual respect and trust. I reserve the right to refuse a treatment or refer when necessary.
I very much hope you find what you are looking for.
Warm wishes,
Sandra
Clinic Spaces in CLIFTON and MONTPELIER >