Dry Cupping Therapy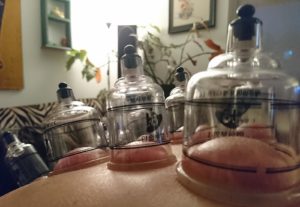 Also known as Myofascial Decompression, Dry Cupping Therapy originated in Eastern China and Africa. This method of treatment is used to relieve pain and tension in the body.
Dry cupping  is a negative pressure soft tissue treatment technique that uses suction via plastic or silicone cups to manipulate the skin and underlying soft tissues
What to expect
We can include cupping during your massage session or we can have a 30 min follow up cupping session when relevant to treat one specific area.
It is very likely that cupping may create dark circles/bruises on your skin following treatment that can last for a few days after treatment. This is nothing to worry about and it shouldn't be painful.
Conditions that can be treated
Muscle spasms and pain
Chronic back problems and pain
Acute and chronic muscle tension
Headaches, including reducing the frequency and intensity of migraines
Neck pain
Myofascial Cupping may
Stimulate blood flow to the area

Increase joint range of motion

Loosen the fascia and muscles

Increase lymphatic drainage (localised detoxification)
Increase connective tissue mobility

Reduce pain in an area
Contraindications
Bruice very easily
Currently taking blood thinners
Varicose veins
History of DVT
Pregnancy
Heart problems